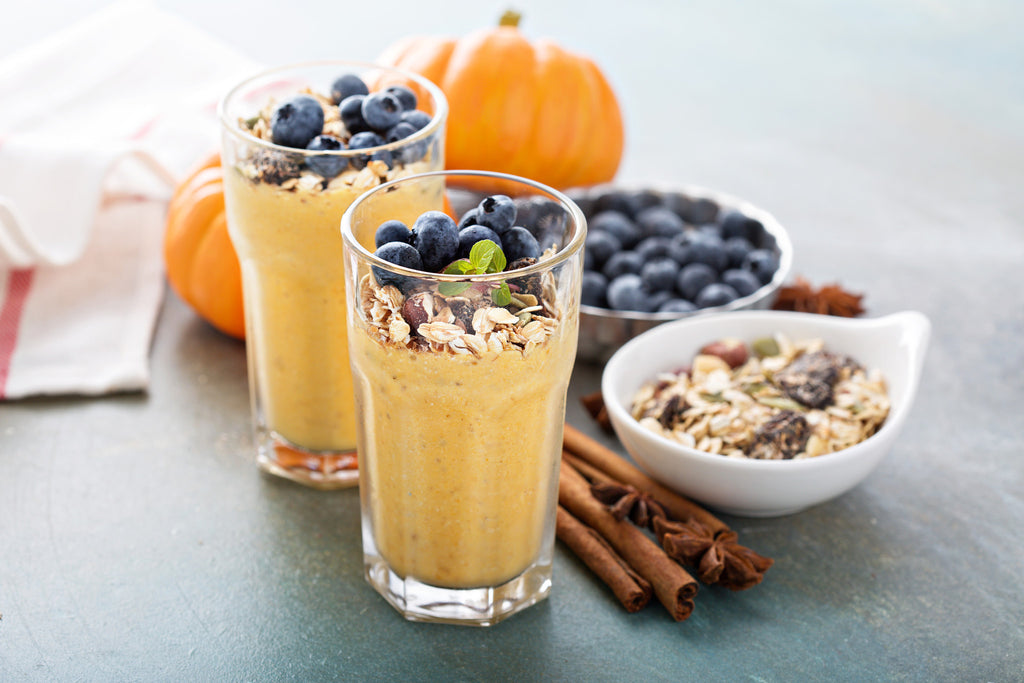 The oatmeal in this smoothie makes it thicker and more hearty, perfect for fall. You can spice it up with some cinnamon or pumpkin pie spice if you like, both will keep your blood sugar more stable through out the day. Cinnamon has been shown to be as effective as some diabetes medicine, that why its included in our Newport Skinny Tea and our Unicorn Magic Happiness Tea.
Hemp protein powder has a great Omega-3 oil profile and can help you become less inflamed, I am also a huge fan of hemp milk and hemp hearts, which you can sprinkle on top, if you like.
As an alternative, you can just make this an oatmeal dish and cook it in the traditional manner.
If you are battling any kind of metabolic disorder, I suggest you leave out the oatmeal and replace it with shredded coconut in the smoothie. I have used banana as a substitute for cooked oatmeal, you just cut it up in chunks and cook it in milk, its actually pretty good!
Blend Together for 1 serving:

1/4 Cup Frozen Blueberries

1/3 Cup Frozen Banana

2 Tbsp Almonds

1/2 Cup Unsweetened Almond Milk

1 scoop plain plant-based protein powder (Hemp is recommended)

pinch of cinnamon or pumpkin pie spice, if desired

Water to blend and stevia (Both optional)

Approx Nutrition of 1 Serving:

275 Calories

5.4 grams fat

29 grams carbs

5.4 grams sugar

29 grams protein

To Your Health & Happiness

Jennifer XOXO